In this blog post we are going to give gym owners and nutrition coaches tips on how to leverage a nutrition challenge to increase nutrition coaching revenue in their gym. Gym owners can create a recurring revenue stream through an ongoing nutrition coaching program that clients take advantage of after a challenge ends.
If you don't currently have a nutrition coaching program in your gym, or you are a current HSN Mentoring client; this article will give you some tips, and inspire you to set deeper intentions when it comes to leveraging your nutrition program to increase nutrition coaching revenue.
If you own a fitness business and have never run a nutrition challenge in your gym, check out this article to learn all about it. The process entails so much more than simply throwing out some healthy eating tips and nutrition advice.
The Nutrition Challenge Trap
Many gym owners we talk to run multiple challenges a year in their gyms. Clients have great results during the challenge, but there is nothing in place to support the clients after the challenge is over, so they regain all the weight they worked really hard to lose.
From here starts the hamster wheel, or something we call the challenge trap. In order to keep clients from looking else where for nutrition coaching, gym owners run multiple challenges per year. Because their clients keep gaining back weight loss from previous challenges, they continue to sign up.
It's kind of like those ads that pop up on Instagram and Facebook promoting those 30 day lose weight quick nutrition challenges.
People sign up for those! And they sign up again and again because they aren't learning how to keep weight off after those challenges end.
Sound familiar? If so, keep reading!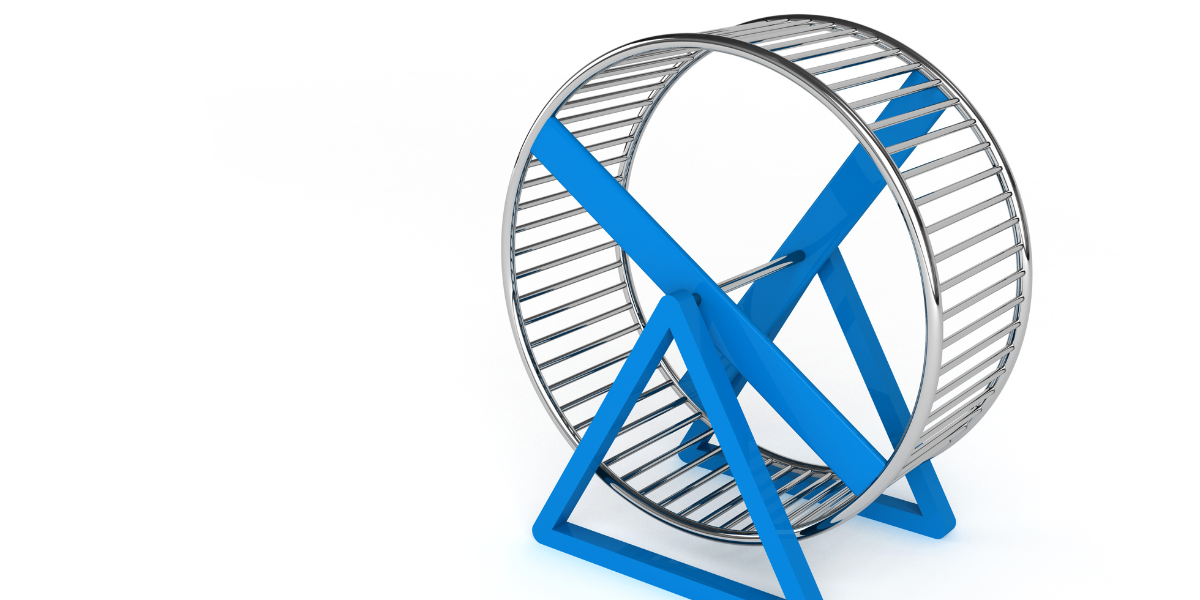 5 Tips To Help Gym Owners Leverage A Nutrition Challenge And Increase Nutrition Coaching Revenue
One of the greatest things about a nutrition challenge in our minds is that it gets clients interested in making a change to improve their health. It can also be a great way to introduce a new nutrition coach to your members.
Although running challenge after challenge does increase gym revenue, these tips will help you replace this on again off again revenue stream into something ongoing and recurring.
Tip #1 - Implement An Ongoing Nutrition Coaching Program
If you are an HSN Mentoring Client, skip this step and move on to the next. If you are a gym owner not currently running an ongoing nutrition coaching program in your gym, this step is for you!
An ongoing nutrition coaching program is going to help you with additional revenue streams, help your coach make more money, and help your clients see amazing long term results. Like we said above, challenges are great to initiate change and lose weight, however 95% of the clients will regain the weight they lost during the nutrition challenge if they don't have any support, and accountability after the challenge is over.
This article will help you learn how to run a nutrition coaching program in your gym if you don't have one! If you are serious about implementing a nutrition program, click the button below to book a free call to learn how.
Tip #2 - Price Your Challenges For Success & Make It Easy For People To Continue With You After The Challenge Is Over
Pricing your challenge appropriately is going to be key in the success of you promoting an ongoing nutrition coaching program now, or in the future. So many gym owners running challenges price their them too low. They have to have a ton of clients sign up just to make it worth running the nutrition challenge.
The nutrition challenge price needs to be above a gyms ongoing nutrition program rate.
If the challenge is priced too low, it's going to be very hard to move people into ongoing coaching after the challenge is over. Ongoing coaching is where the bread and butter is really at for both client and gym owner. Real results are seen with programs that have options beyond 3o days.
Our goal for the gyms running the HSN program is to have a conversion rate of 50-70% from a challenge to ongoing nutrition coaching.
Tip #3 - Talk About The End Of The Challenge At The Beginning
We want it to be very clear to clients that their journey isn't over when the challenge is over. They will be enlightened to know that they have the option to continue with the nutrition coach, and an ongoing nutrition program after the challenge is over.
Now is the time to increase nutrition coaching revenue in your gym by implementing an ongoing coaching program and leveraging a challenge to kick it off! 
Losing weight is the number one reason most people sign up for a challenge. But, ensuring that each client understands they are not going on a diet, only focusing on losing fat, or being forced to eat like birds for 30 days is very important. Nutrition challenges are run in a group format, and are a time where foundational healthy habits are learned through a holistic approach. Subjects like sleep routine, fitness, stress management, inner circle and nutrition are all addressed.
Really dialing in individualized support comes after a challenge, and is where true lifestyle change happens. That is why it's so important to let clients know in the beginning there is an option to continue when the challenge ends.
There are three main opportunities to talk about the client journey to challengers.
During the initial challenge meetings

At the kick off seminar

The last week of the challenge in emails and videos from the nutrition coach
This brings us to tip four!
Tip #4 - Schedule Individual Meetings Before And After The Challenge
Why individual meetings when this is a group challenge? Great question!
The nutrition challenge is meant to be run in a group format. That being said, in order to learn a bit more about your potential clients, we highly suggest adding a couple individual touch points. Hosting an individual pre challenge meeting gives the nutrition coach an opportunity to get to know the person a bit better, develop a report with them, and also understand what living a healthy lifestyle looks like to them.
Additionally finding out why the challenger signed up for the nutrition challenge is important. Understanding a person's why really helps drive real behavior change. And, the information gained from these pre challenge meetings is to be used as a catalyst to sell the ongoing nutrition coaching program at the end of the challenge.
During these initial meetings questions are asked to get to the potential clients why.
Some of these questions look like this:
What prompted you to join this Challenge and what do you hope to achieve?

What does success look like 6 months from now? Why is that so important for you?

What will improve in your life when you reach this goal? (Non-scale victories, confidence, sleep, energy)

What barriers do you see coming in the way of achieving your goal over the next 28 days?

What is your biggest struggle with nutrition?
The Post Challenge Checkin
During this initial challenge meeting, the post challenge check in is scheduled. The post challenge check in is just as important as the pre challenge check in. This meeting is where the nutrition coach gets the opportunity to find out how the challenger did, and go back to the questions answered in the initial meeting.
The answer to these questions, and the way the program was presented in the beginning of the challenge is going to determine if the client moves forward with ongoing coaching. If it was made clear from the beginning that there are options after the 30 days, the client will likely sign up. If it was not, then chances are there will be very few people who continue with ongoing coaching. It may even come as a surprise to people that it is offered if there was no discussion of it initially.
Here are some examples of questions asked during the post challenge check in:
What bright spots did you experience during the challenge?

Do you feel you would have been as successful without participating in the challenge?

What struggles or obstacles, if any, did you face over the last 28 days or 6 weeks?

Did you get closer to the initial goal you had when you joined the challenge?

With everything you have already accomplished and keeping your long-term goal in mind, how would extra support and accountability with ongoing coaching make an impact on your ability to achieve your goal?
Being ready with options for ongoing coaching is extremely important. Remember Step #2? Make it easy for people to continue with you! At HSN Mentoring, we provide a pricing binder template for all of our clients. This makes it easy to present ongoing coaching options in a simplistic format.
Step #5 - Get Your Entire Fitness Staff On The Same Page
The most successful gyms running the HSN Mentoring program have fitness staff that are supportive, and promote the nutrition coaching program. Asking the fitness professionals in the fitness facility to participate in a challenge at some point is a great way to familiarize them with the philosophy behind the program. Doing so will help them have the knowledge and experience to better promote the program in the future to any new member, and also current clients.
When everyone is talking the same language, true success can happen! You never know when a potential client will hit up a fitness coach about nutrition. The opportunity presents itself more than people realize. If that coach is able to talk up the program, and also point the potential client in the right direction to get signed up, the more successful the program will be in the long run.
The importance of having an ongoing nutrition coaching program to support nutrition challenges and increase nutrition coaching revenue is huge. It breaks the challenge trap!
As gym owners we know how important it is to have multiple revenue streams to support our business. Many gym owners look at nutrition challenges as one of those streams, but fail to recognize the opportunity beyond the challenges.
Wouldn't it be amazing to only run one nutrition challenge per year!? I mean let's be honest, they are a lot of work. Having a program for your clients to move into after the nutrition challenge is over would guarantee continued revenue.
Additionally, ongoing support and accountability are better for your clients than just a thirty day coaching program.
Are You A Gym Owner Or Nutrition Coach Wanting to Learn How To Run A Challenge?
If so – we have a Challenge Intensive Program that teaches the fundamentals of running a nutrition challenge!
Our next one is on July 27th, 2023!
This one day intensive teaches gym owners and coaches:
How To Price, Package, & Structure A Nutrition Challenge

How To Increase Sign-ups & Engagement

How To Deliver A Professional Nutrition Challenge

How To Turn Your Challenge Into An Ongoing Coaching Program
Your participation includes:
One Individual Mentoring Call To Help You Personalize The Information For Your Facility

Challenge Marketing Timeline to help you market and promote your challenge

Marketing Templates (Including Emails & Social Media Graphics)

Client Resources (Videos, Handbook, Recipes & More)

Individual Client Meeting Templates so you know what to ask and talk about with your clients to get them their best results
Free Help For Gym Owners And Coaches
WATCH & LISTEN – 4 Best Practices When Launching A Nutrition Challenge In A Gym & Top Mistakes To Avoid – HERE
WATCH & LISTEN – How To Plan, Launch & Execute A Nutrition Challenge In A Gym – HERE
WATCH & LISTEN – Turning Your Nutrition Challenge Into A Recurring Revenue Stream & Ongoing Nutrition Coaching Program – HERE